Yesterday was a perfect day for USHJA clinics at Lamplight.
Diane Carney and Thomas Cerra gave an excellent Open Water Jumping Clinic. I did a full write up of the clinic for the website www.chicagoeqestrian.com
Diane also did 2 Hunter clinics and there was a Pony model class with an ask the judges section.
The Hunter clinic consisted of 2 groups of riders. The emphasis of the clinic was on thinking on your horse. The concept of proper position coupled with being mentally and physically strong was reviewed in the deceptively difficult exercises. Every rider completing the clinics left with great feedback and information, and an increased confidence in their riding abilities.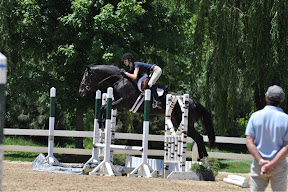 - Steph... From my iPad