This past weekend was a busy fall weekend for Chicagoland Equestrians and Horse enthusiasts!
There was the Finals for the Emerging Athletes Program and Trainer Certification Program at Country Ridge Stables in Mundelein, IL. Chicago area junior rider, Lauren Ditallo participated in this years program with notable clinicians Peter Wylde, Mindy Bower and Jennifer Alfano. Check the website soon for a full article and interview with Lauren Ditallo.
The NIHJA and IHJA Banquets celebrating the accomplishments of riders and trainers throughout the year. It is always a great party when everyone gets together for dinner, awards and bit of dancing!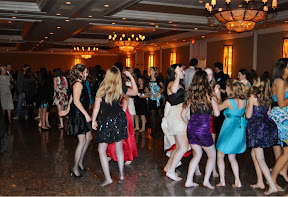 The Chicagoland Equestrian Lifestyle Expo at the Lake County Expo Center provided a one stop venue for shopping and a learning experience for everyone who loves horses.
There was even a Monty Roberts Methods clinic in Barrington, IL taught by Monty's daughter Debbie Loucks.
We would love to hear what you did this past weekend in the Chicagoland horse world!
- Posted using BlogPress
Location:All over Chicago!