Once again the action heated up and the adrenaline was pumping as the jumpers headed into the arena on Saturday night.
The first class was the Show Jumping Hall of Fame $50,000 Jr/AO Championship. We had three entrants from the Chicago area that qualified throughout the show to compete.
A/O rider Laura Linback riding Whittaker MVNZ for Woodrun farm took 8th place after leaving up all the rails but going just over time allowed. Laura raced to cross the finish timers while her husband anxiously looked on from the gate. The course was large and technical, it looked as if she was just a tad slow getting moving at the beginning.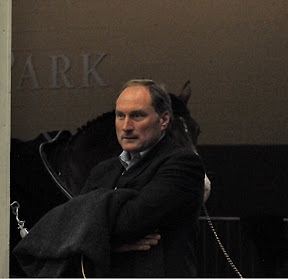 Junior rider Lillie Ross riding Pako for Allison Ross took home the 10th place ribbon after having just a single rail down. She was fast enough with a 4faults to make the top 10. Great job for this junior rider and her beautiful horse Pako!
Caitlin Hope riding Total Touch for Kathleen Hope also qualified and rode in the Championship class.
Next up on the schedule was the pristine main event for the evening! The Alltech National Horse Show $250,000 International Grand Prix.
George Morris was a guest speaker to talk about the importance of supporting the Horse Show, the industry, the trainers and the riders. Mason Phelps, president of the National Horse Show and Dr Pierce Lyons, owner of Alltech welcomed the National Horse Show to it's permanent new home at The Kentucky Horse Park.
A single rider represented the Chicago area in the International Grand Prix. Charlie Jayne riding Athena for the London Group.
Charlie had a very exciting ride and left everyone holding their breath as he raced to the last jump. A collective groan from the crowd was heard as a rail on the very last fence splashed into the liverpool. Charlie took 11th place and a check for $5,000.
Congratulations to all the Chicago Area Jumper riders that qualified and competed at the Alltech National Horse Show!
For additional coverage of The National Horse Show please see www.chicagoequestrian.com
For full class results NHS.org
- Posted using BlogPress from my iPad
Location:KHP, Lexington, KY