The Hunter competition heated up today as the top contenders battled it out for Champion and Reserve Champion of their divisions. Under Saddle classes were held first followed by the highly competitive Stakes classes.
Chicago area riders Madeline Thatcher and Catherine Tyree did their best to win the coveted Champion medals.
Congratulations to Maddie and Catherine on all their hard work!
Maddie Thatcher riding Catch Phrase
Maddie Thatcher riding Bella Blue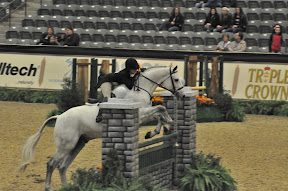 Maddie Thatcher riding Summer Place
Catherine Tyree riding Savant
- Posted using BlogPress from my iPad
Location:KHP, Lexington, KY